Chiropractic Care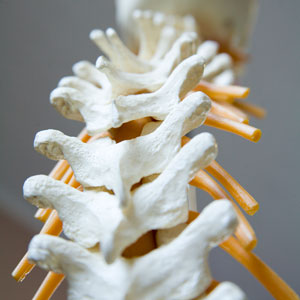 Chiropractic addresses the health of your nervous system. By optimizing the flow of information through this master system, the body can direct its own processes. Inside of you, you know what you need to heal. Dr. Alyssa allows that process to express itself so that you can find a state of balance.
To help you discover the balance that works for you, Dr. Alyssa uses chiropractic adjustments and other various techniques (see below). You can think of what happens during a treatment like unkinking a garden hose. In doing so, information can flow freely through your body.
Good Health Is Like An Onion
It's normal that when you have a problem, you want to get right into the core of it. Your body, however, responds best to incremental change. You can think of Dr. Alyssa's treatments like peeling back the layers of an onion. To start, the first layer is peeled away, then the next and so on. In this way your body gently directs your own healing, in the manner and timing that is most optimal for you.
Dr Alyssa's Array of Techniques
Dr. Alyssa is well-versed in a range of different techniques. If you have a preference on how to be adjusted, just let her know. She will be happy to incorporate your preferences and desires into treatments. Below, you can find descriptions of her most commonly used methods.
Diversified. When you think of traditional chiropractic adjusting, it likely involves this technique. Dr. Alyssa will use her hands to make specific adjustments.
Activator® and ArthroStim®. These instrument-based techniques are extremely gentle and rarely involve a popping noise.
Drop Table. A table with a built-in piece in the middle drops away to assist in your adjustment, making for a comfortable experience.
Percussor. This method addresses the soft tissues in the pelvis, low back, shoulder and extremities.
Neuro Emotional Technique (NET). Health challenges can often involve mind and body. NET is an ideal solution for anyone who wants to improve both aspects.
Cranialsacral Therapy. With cranialsacral therapy, Dr. Alyssa will facilitate the healing side of your nervous system. It's particularly effective for babies.
Koren Specific Technique. Tapping into the wisdom of your body allows it to show us the answers. This technique checks, challenges and corrects different issues.
Acupuncture. Dr. Alyssa is trained in this modality. It is ideal for expecting moms to gently prepare the energy, the mind, and body for birth.
Cranial Adjusting Turner Style (CATS). This technique allows for gentle realignment of the bones of the skull creating a more balanced home for your brain, often resulting in improvements in function.
Get Started Today
Call now to set up your first appointment! Same-day visits are available.
CONTACT US »

Chiropractic Care Guelph ON | Dr. Alyssa Shepherd | (226) 780-7887